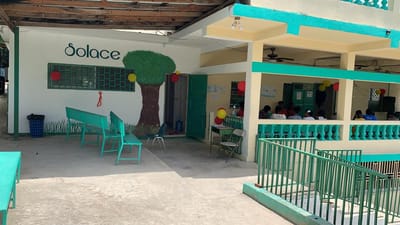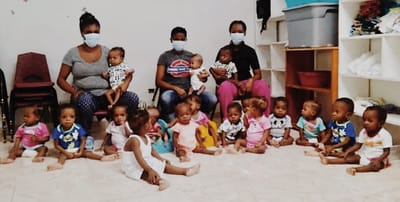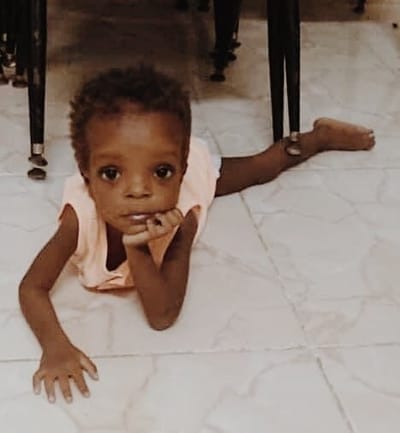 There is a baby who needs your help.
Would you like to sponsor him or her?

S O L A C E
Our goal is to eradicate malnutrition. Until then.... we are kept very busy!
Solace Nutrition Hospital nurtures severely malnourished babies with 24-hour around-the-clock care. They're fed nutritious foods four (4) to five (5) times every day, get physical therapy, and all their medical needs are met (sometimes off-site at more advanced hospitals). Solace babies are literally hugged, loved, and prayed back to good health. Each child's length of stay differs. (Solace baby sponsorship is only 18 months.)
When the baby has maintained good health and has reached his or her goal weight,
they RETURN HOME to their FAMILIES.

Solace keeps kids OUT of ORPHANAGES and slavery (restavec homes). Eighty-five percent (85%) of kids in orphanages have living parents who gave them away.
A "restavec" is a child who lives with a family as their slave. Only unimaginable desperation from poverty could force a parent to do such a thing.
Solace at Hope Alive KEEPS FAMILIES TOGETHER!

K A Y L A M O U
(pronounced Ki Lamoo) means House of Love. Solace works hard to restore families.
Most parents are incredibly grateful when their child graduates from Solace at his goal weight and is returned to them in good health.
A very few babies, however, cannot return to their parents, because their parents have either died or disappeared.
(Haiti has been a war zone as a result of gang violence since 2018.)
We remain committed to continuously care for babies who have been abandoned at Solace.
Kay Lanmou is their temporary home after having been saved and nurtured at Solace Nutrition Hospital.
We continue to search for permanent families for them.

Whether you can sponsor a child in Solace (for 18 months) or in Kay Lamou,
YOU can SAVE a LIFE. Will you help a child in his battle against malnutrition?
A refrigerator magnet picture of your child with some information about him or her will be mailed to you.

For only $25 a month, you can help a malnourished child in Haiti.

Please contact Jolene Wagner at hopealivehaiti@yahoo.com
by email, or send a note with your first
$25 check to include your Name, Address, and any special preferences.

HOPE ALIVE HAITI
PO Box 964
Medford, NJ 08055

(or PayPal by clicking the link).

THANK YOU!